This spiced sheet carrot cake is easy to make and deliciously moreish, with a smooth and tangy whipped cream cheese frosting! It's so simple to make, whether you want to feed a crowd or have a yummy dessert to serve up for your family after dinner.
Carrot cake has always been a winner in my world – not bad for a cake based on veggies! I'm a sucker for anything spiced, and just love the moist texture of the cake mixed with the tangy cream cheese frosting.
It makes a great cake to serve up at Easter if you need a break from all that chocolate. But let's be honest – carrot cake is a great go to at any time of year!
I decided to use a whipped cream cheese frosting for something a little different, and also because I had some heavy cream in my fridge that needed to be used up! This frosting doesn't use any butter, and has a beautiful cloud-like lightness.
It's a great alternative to a traditional cream cheese frosting, but of course you could always swap it out for a regular butter based cream cheese frosting instead if you prefer.
It's also super easy to customize this carrot cake to your own tastes – I love adding nuts and raisins to mine because I love that extra texture. Raisins are lovely little flavor bombs of sweetness and the earthy walnuts really complement the carrot, but the cake tastes just as good without the add-ins if that's how you prefer it!
There's also no pineapple in this recipe. This carrot cake is so moist and full of flavor already that I don't think it needs it.
And because it's a sheet cake it's so insanely easy to whip up. Just mix up the batter and pour it in the tin. You can even decorate it straight in the sheet pan. No need for need for any any cake trimming, chilling or assembling. So much easier than a layer cake!
Another thing I love about carrot cake is that it can be as fancy or simple as you like. If you're feeling fancy you can color some frosting and pipe little carrots to decorate. Or keep it simple like I did with crushed walnuts and store bought candy carrot decorations.
Honestly, I think the hardest part of this cake is grating the carrots! I did it by hand with a box grater because I was too lazy to haul out my food processor (that thing is ancient and HEAVY!)
Whilst this is totally doable, don't be like me if you're short on time (and value your manicure!)
Just make sure your carrots are finely grated because we want this cake to be nice and moist. The carrots should almost blend into the cake – we don't want any crunchy chunks of carrot in this beautiful carrot cake.
How to make a carrot cake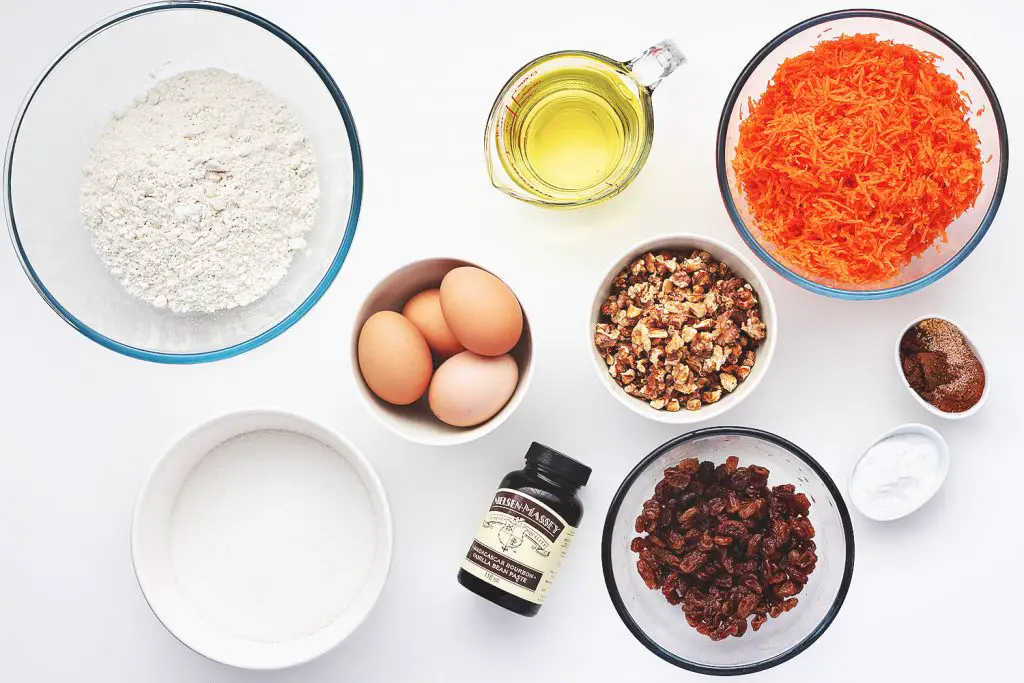 To start your carrot cake gather together your dry ingredients – flour, spices, baking soda, baking powder and salt. Pop them all in a medium bowl and sift or whisk them together. This makes sure that everything is nicely distributed throughout the flour.
In a separate bowl whisk together the oil, sugar and vanilla. I used my stand mixer for this, but you can definitely do this by hand or using an electric hand whisk if you can't be bothered to lug out a heavy mixer! Using oil in this recipe instead of butter helps to keep the cake lovely and moist.
Then you can start adding the eggs. I like to add them one at a time, mixing well after each egg to make sure everything is nicely combined.
Once all the eggs are in you can start adding the flour mixture. I just throw it all in the batter bowl, and then fold it all in with a spatula or the beater attachment on my mixer.
Don't worry if there are little bits of flour still hanging around because we still need to stir in the grated carrots and optional add-ins. You want to make sure there are no big pockets of flour in the batter, but don't overmix it because your cake might come out too tough. And no-one wants a tough carrot cake!
Once the flour is mixed in, add the finely grated carrots and optional nuts and raisins. Fold them into the batter until everything is just blended together.
Pour everything into your prepared 9×13 inch cake pan and bake for 40-50 minutes or until a toothpick inserted in the center comes out clean.
Whipped cream cheese frosting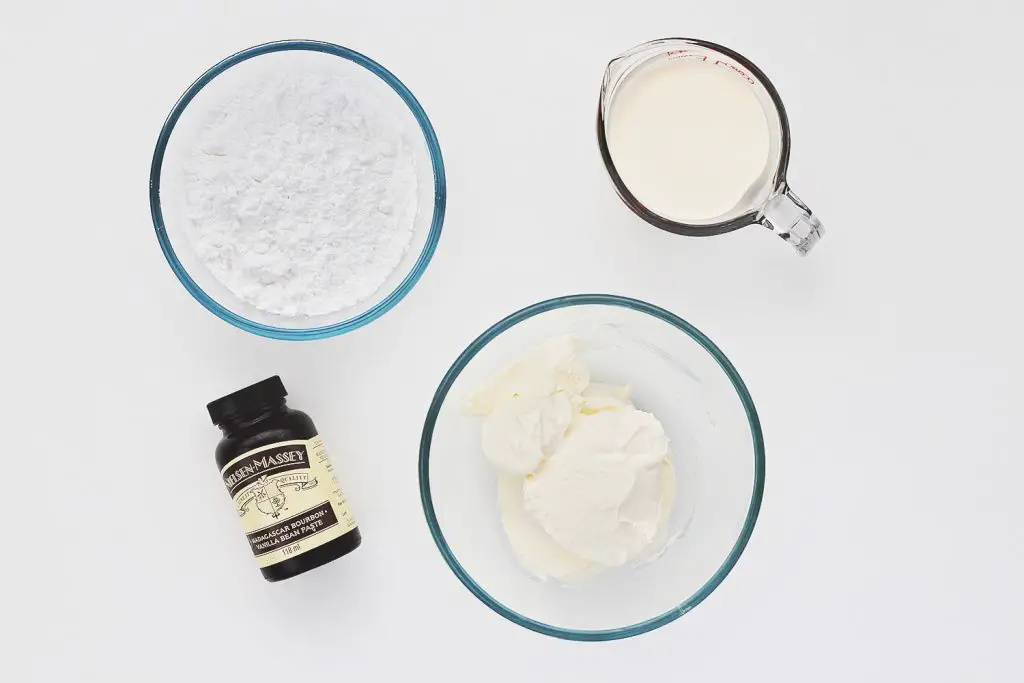 This whipped cream cheese frosting has no butter, and is light and silky! It makes a great change to a regular cream frosting. All you need is full fat cream cheese, heavy (double) cream, vanilla, powdered sugar and a pinch of salt.
You'll also need a stand mixer or a handheld electric whisk for this part!
The cream cheese and cream need to be cold for this frosting, so make sure you keep them in the fridge right up until you need them. I also like to keep the mixing bowl and beaters in the fridge for at least 30 minutes as well.
Once everything is nicely chilled put the cream cheese and sifted sugar in the mixing bowl and beat them together for about a minute until they're combined and creamy. Careful you don't over beat the cream cheese because it can break down and you'll end up with a soupy frosting! You just want to beat them until the sugar has all combined.
Add the vanilla and salt and stir through. Now you want to slowly pour in the cold cream while whisking on a medium speed. To help stop the cream splattering everywhere try to pour it down the side of the bowl. Scrape down the bowl now and then. Whisk until stiff peaks form, and then stop!
If you're not sure what stiff peaks look like, take a look at this article from Fine Cooking.
All that's left is to spread your cloud like whipped cream cheese frosting over your cooled carrot cake.
Storing the cake
This carrot cake needs to be refrigerated thanks to the cream cheese frosting.
If you're keeping it in the pan, make sure you cover the top tightly. Otherwise, place it in an airtight container. The carrot cake can keep for up to 5 days in the refrigerator.
Can I make this cake in advance?
If you need to make your carrot cake ahead of time you can bake the cake part a day ahead.
Leave it to cool completely, then cover it with clingfilm and store in refrigerator overnight. The whipped cream cheese frosting is best made fresh and used immediately though.
Carrot Cake with Whipped Cream Cheese Frosting
Ingredients
For the cake
240

g

/ 10.5 oz / 1½ cups all purpose flour

2

tsp

ground cinnamon

½

tsp

ground ginger

¼

tsp

ground cloves

¼

tsp

allspice

¼

tsp

nutmeg

1

tsp

baking soda

2

tsp

baking powder

½

tsp

salt

2

tsp

vanilla extract

400

g

/ 14 oz / 2 cups granulated sugar

200

g

/ 7 oz / 2 cups vegetable oil

4

eggs

325

g

/ 11.5 oz / 3 cups finely grated carrots

125

g

/ 4.5 oz / 1 cup chopped walnuts, toasted

optional

90

g

/ 3 oz / ½ cups raisins or sultanas, soaked

optional
For the frosting
340

g

/ 12 oz full fat cream cheese

cold

150

g

/ 5.25 oz / 1¼ cups powdered (icing) sugar

sifted

2

tsp

vanilla extract

1

pinch

salt

200

g

/ 7 oz / ¾ cups heavy (double) cream

cold
Instructions
To make the cake
Preheat oven to 350F / 180C

Grease and line a 9 x 13 inch pan with parchment paper.

In a medium bowl, sift together the flour, spices, baking soda, baking powder and salt. Set aside.

In a large bowl whisk together the oil, sugar and vanilla on a medium speed.

Add the eggs one at a time, mixing well after each egg.

Fold in the flour mixture, mixing well until combined and making sure that there are no pockets of flour.

Add the carrots, and the nuts and raisins if using. Mix until just blended together.

Pour batter into the prepared cake pan and bake 40-50 minutes or until a toothpick inserted in the middle comes out clean.

Cool cake in the tin for 15 minutes, then turn out onto a cooling rack and allow to cool completely.
To make the frosting
Chill the mixing bowl and whisk for 30 minutes (optional)

Place the chilled cream cheese and sugar in the mixing bowl and beat for about a minute until combined and creamy.

Add the vanilla and salt.

Slowly pour in the cold cream while whisking until stiff peaks form.

Spread the frosting on the cooled cake.

Top with more chopped walnuts, if desired.
Want more Easter Recipes?
Even More Easter Fun!
Looking for some adorably cute and free Easter party printables to help you have a Hoppy Easter? Check out my free printable party set right here!
It includes two Easter banners (Happy Easter & Easter Egg Hunt), straw flags, treat bag toppers, cupcake toppers and more!
Want some more ideas and inspiration for your Easter celebration? Have a look at my Best Easter Party Ideas post here. It's full of ideas that kids will love for food, favors and more!